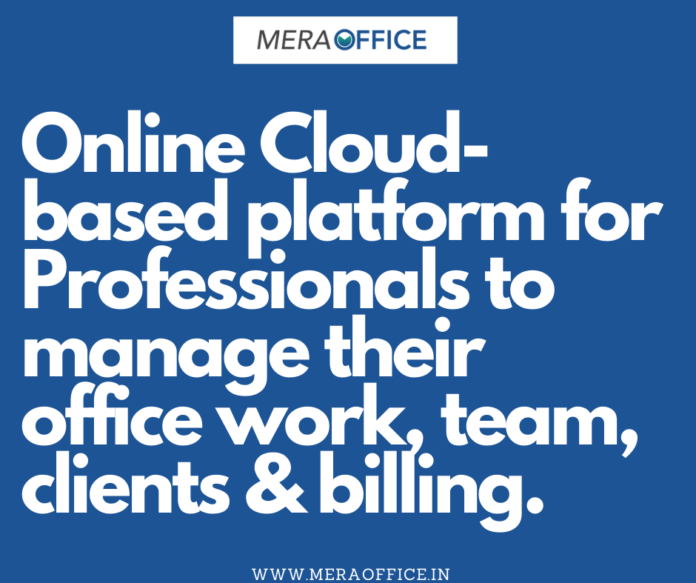 About MERAOFFICE
MERAOFFICE is an online cloud-based platform useful for Professionals to easily manage their office work, clients & staff. 
Why MERAOFFICE?
Due to Coronavirus, many people prefer to shift their work from the office to homes, with this cloud-based system it gets all the easier to delegate and assign work, it increases team productivity & helps to manage every deadline for your clients. It is a platform to ensure you are updated with your daily tasks even working from home/remote offices by just streamlining your work on MERAOFFICE.
Brief knowledge about the terminologies used in MERAOFFICE:-
1. Service – the main nature/department of work to be performed.
For example – GST, INCOME TAX, STARTUPS, PROJECT FINANCING SERVICES
2. Task – the sub nature of work under the main department of work ( under services)
For example – under GST it can be GSTR1, GSTR3B, GSTR9, GST REFUND
3. Milestones – actual work to be performed/collected in order to complete a particular task
For example – In order to complete GSTR 3B various milestones have to be checked from details of taxable supply and credit note, details on which RCM is applicable, details of non-get and exempt supply, etc
4. Blockers- task/milestones which are pending to be completed because of clients/due from clients end
For example – DSC not received, appeal fees not paid by the client
5. Inward attachments- all the attachments/documents received from clients
For example- Financials of a particular AY for the audit, some signed documents
6. Outward attachments – all the attachments/documents to be submitted to clients
For example – final audit reports, GST 
7. Activities – all the action/motion done by you in MERAOFFICE for all services
For example – If you create a task, your activity tool will be shown that you have created a task along with date and time.
Easy steps to follow to work on MERAOFFICE:-
1. Firstly you will be welcomed on-boarding to get registered on MERAOFFICE by simply creating your account by filling up a few credentials. It is as easy as creating a Google account. 
2. There are five productivity tools on the software – dashboard, task, clients, reports, and activities.
3. Start by creating a task, click on 'add' to generate new task. Select your service, task type, task template, task leader, task supervisor, task team, number of target days, due date, and lastly add client/multiple clients in one go for a particular task.
4. After creating the task, the dashboard reflects other five productivity tools to see and manage your tasks, you can adjust your daily work by seeing task which is critical to the due date, a task which is performed in last 24 hours, etc
5. Each task has few milestones to be checked mark to ensure that task is being completed, as and when you complete the milestone and update on software, an email will be sent to all the people associated to the task (to ensure the team/staff/client know the status for their work)
6. For the bulk task which are recurring in nature you can create task template for each service.
7. Reports can be generated to check each team member's contribution to each team task, to check the contribution of the overall team in getting tasks completed and health checkup reports are useful to check if milestone A is completed but milestone B is pending.
This was the overview of cloud-based platform MERAOFFICE. All your office members have to just log in and update from time to time about the work they are during so that it is useful for everyone around, it always helps to avoid frequent calls from clients to check on their status of work as they can easily receive mails for the same and it ensures that your time is utilized in the most efficient way.
Do visit https://meraoffice.in and explore it by starting your 1-month free trial.
Book a one to one demo at https://calendly.com/mera-office/meraoffice-in-virtual-demo?back=1&month=2020-08&date=2020-08-10
After all, at the end of the day, you don't have to have a hard disk to store your data subscribe to MERAOFFICE and you are ready to rock and roll.
Also, for any further doubts please do watch https://meraoffice.in/tutorial or book your virtual memo session of MERAOFFICE on the website.
Thank You!