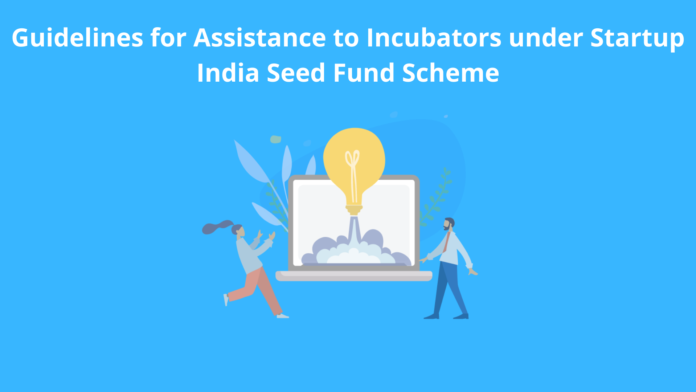 The following are the guidelines for assistance to incubators under the Startup India Seed Fund Scheme
Experts Advisory Committee (EAC) shall evaluate incubators for grant assistance. A Grant of up to Rs. 5 (five) crore would be provided to a selected incubator in milestone-based three (or) more installments. The exact quantum of grant and instalments for each incubator will be decided by the Experts Advisory Committee (EAC) based on its evaluation.
Incubators shall use the grant only for disbursal to eligible startups and shall not use the grant for facility creation or any other expenses.
A component of Management Fee @ 5% of Seed Fund grant to the incubator will be provisioned (i.e. if an incubator is granted Rs. 1 crore of Seed Fund, then by including management fee @ 5%, the total assistance would be Rs. 1.050 crore)
The Management Fee provisioned for incubators shall not be used by the incubator for facility creation or any other administrative expenses. The Management Fee will be utilized for administrative expenditure, selection and due diligence of startups, and monitoring of progress of beneficiary startups
Installments shall be released to incubators upon submission of proofs of achievement of milestones as decided by EAC. Proportionate Management fee shall also be released with each installment
The quantum of first installment may be up to 40% of total approved commitment. When the cash-in-hand of the incubator goes below 10% of the total commitment by EAC, the Incubator may request for the next installment, which shall be released to incubator within 30 days of submission of proof of achievement of milestones
The grant should be utilized fully by the incubator within a period of three years from the date of receipt of the first installment of funds.
If the Incubator has not utilized at least 50% of the total commitment within the first 2 years, then the Incubator will not be eligible for any further drawdowns. It will return all unutilized funds along with interest.
Interest earned on all unutilized funds available with incubators shall be taken into account and adjusted at the time of next release.
The financing of beneficiaries will be done with efficiency and care. Selected incubators would be responsible for proper management and disbursement of the Seed Fund
Selected incubator shall maintain a transparent process of selection, monitoring, and disbursement mechanism for the fund. Seed Fund would be disbursed to selected startups after due diligence by the incubator
The incubators shall be responsible for providing physical infrastructure to the selected startups for regular functioning, support for testing and validating ideas, mentoring for prototype or product development or commercialization, and developing capacities in finance, human resources, legal compliances, and other functions. They are also expected to provide networking with investors and opportunities for showcasing in various national and international events. If the selected startup does not want to utilize the physical infrastructure of the incubator, the incubator shall offer all other resources and services to the startup
A startup selected by an incubator for assistance under this scheme shall not be charged any fees.
RSA Consultants is a team of Chartered Accountants and other Professionals, rendering services in the field of Income Tax, GST, Indirect Tax, International Taxation, Corporate Law Advisory, Accounts & Assurances and Consultancy related to Startup & Entrepreneurship since 2011.
Our team can help your Startup to make application under the SISFS. Kindly get in touch with us via WhatsApp at 97234 00220