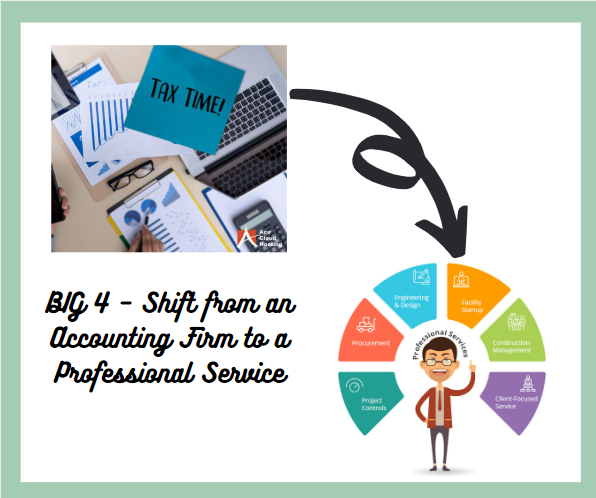 The Big 4's are world's four largest professional service firms.
We can call them as the secret Google, Microsoft, Apple & Amazon of Accounting firms. Their revenues are huge and they have strong entry barriers in their sector. They have large employee strength and presence in almost all major economies of the world.
So first let's have a look at some brief statistics about these firms:
Now interestingly, if we look at the next big 4 firms, we realized that the closest one to them are actually too far..!
The revenue of KPMG (last of the Big 4 in terms of revenue) of $ 29.75 Billion hugely surpasses the combined revenue of Big 5 to Big 8 (BDO, RSM, Grand Thornton, & Crowe) i.e. $ 25.36 Billion.
This shows that there is no one remotely close to the Big 4 in terms of its revenue, market share, technology & employee strength.
It is estimated that Big 4 audits 80% of the Listed Companies in the world.
But interestingly, Big 4 generates only 1/3rd of their revenue from Audit Fees.
The ambit of services provided by these firms is so huge that it's wrong to call them the Big 4 Accounting Firms.
They should be correctly called as a "Professional Service Conglomerates"
Now the question is, How they did it?
As we can see, each of the Big 4 has more than 100+ years of existence.
And all of them had done one thing in common to reach where they are today.
"Mergers & Acquisition"
Previously, there were numerous large accounting firms. Each of them used to dominate in their own country unlike today.
In 20th Century, some firms realized the importance of merger and acquisition eventually established large scale presence around the globe.
In the 20th Century, after a lot of mergers and acquisition, the Big 8 firms used to dominate the industry:
Subsequently,
Ernst & Whinney merged with Arthur Young to form Ernst & Young
Deloitte Haskins & Sells merged with Touche Ross to form Deloitte & Touche.
And Price Waterhouse merged with Coopers & Lybrand to form PricewaterhouseCoopers
Finally, the insolvency of Arthur Anderson because of the 2001 Enron Scandal left the world with the Big 4 that we have today:
Ernst & Young
Deloitte & Touche
KPMG
PricewaterhouseCoopers
It's also worthwhile to note that they are not firms but a network of member firms agreeing to operate under a common brand name
The firms are go giant that at times it looks like these firms would continue to dominate the sector forever.
But the fall of Arthur Anderson proved that even Big firms can collapse.
On the other hand, the Big 4 has learnt a good deal of lesson with the fall of Arthur Anderson and are found to be continuously improving on Risk and Reputation matters especially in India after their alleged involvement in Satyam & IL&FS Scandals.
Honestly, they have been constantly developing advanced technologies and methodologies and are way ahead of their competition.
Now these lead me to recall the speech of our Prime Minister Shri Narendra Modi on CA Day back in 2017. He expressed a vision of having the presence of Big 4 Indian Firms among the world's Big 8 firms.
Although with the above data, it appears to be impossible. But we should not forget, that this was the statement coming from the PM of India. And the speeches given by our PM are always well researched, well drafted & fact checked by his team. As I begin to research on the viability of the vision, I came across the following road map.
So how can we form Indian Big 4 amongst global Big 8?
Well, honestly this would include a lot of endeavor from the top Chartered Accountant firms in India. Some of them can be listed as below:
They have to merge within themselves and make lots of mergers & acquisitions around the globe.
The existing Indian Member Firms has to leave the network of Global Big 4 and join Indian Networks.
This Indian network firms will have to build reputation for providing quality services around the globe.
The business houses had to follow Nationalism by hiring Indian firms instead of Big 4's.
Fall of 1 or more Big 4 firms just like Arthur Anderson due to Enron Scandal.
And most importantly, expecting the Big 4 not to do anything all this while.
All of this seems quite difficult, extremely superficial and rather impossible.
Even if few of the big Indian firms comes together, there would a huge challenge to work under a common brand name and maintain transparency.
But not to forgot, it's a vision by our PM. And vision have always been of such kind. Difficult & Impractical. After all, vision easily achievable is not a great vision at all..!
The whole vision is nice to hear & think. But its easier said than done. All we can say at this moment, Big 4 stands too Big to be replaced by any of their competitors around the globe.
Sources:
https://www2.deloitte.com/us/en.html
https://www.pwc.com/gx/en.html
https://home.kpmg/xx/en/home.html