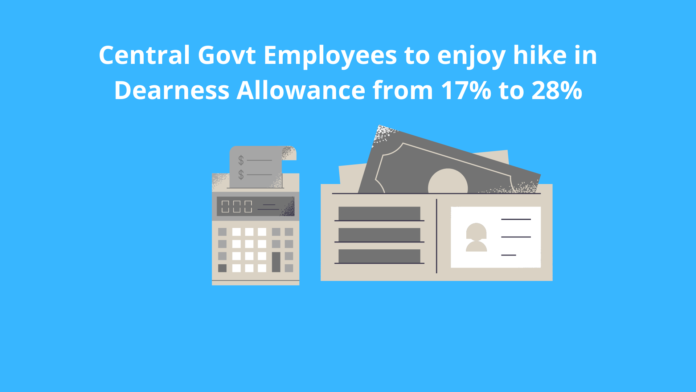 "The President is pleased to decide that the Dearness allowance payable to Central Government employees & dearness relief to pensioners shall be enhanced from the existing rate of 17% to 28% of the basic pay with effect from 1st July, 2021" said the recent Memorandum of Ministry Of Finance, thereby increasing the rate by 11%.
The Ministry of Finance had put on hold an increment in dearness allowance (DA) till June 30, 2021, due to the COVID-19 pandemic in April last year. The rate of DA from January 1, 2020, to June 30, 2021, shall remain 17 per cent.
The decision is expected to cost the government approximately ₹ 34,400 crore and impact around 48,34,000 central government employees and 65,26,000 pensioners" said Anurag Thakur, the minister of sports, youth affairs and minister of information and broadcasting in a press briefing while making the announcement.
What is dearness allowance?
Dearness Allowance is paid by the government to its employees as well as a pensioner to offset the impact of inflation. The effective salary of government employees requires constant enhancement to help them cope up with the increasing prices. Dear Allowance/Dearness Relief is revised twice a year from January 1 and July 1.
Illustration on Dearness Allowance
The present rate at which the government employees are getting DA is 17%. For example, if a government employee's basic salary is ₹20,000, the DA is ₹3400 (at 17%). With 28%, the dearness allowance will be 5,600 in a month. This calculation will be applicable from July 1.
Impact of hike in Dearness Allowance
The impact of increase in the dearness allowance on the economy will depend on whether and to what extent employees actually spend money. On a general front, an increase in dearness allowance essentially increases the money that employees bring home . If the employees choose to spend all this additional money they get, it will have a positive impact on the dropping consumption demand due to the pandemic . However, if they choose to save this money instead of spending the same and keep it in their bank accounts, it will help the economy by bolstering the flow of funds to the banking system.